History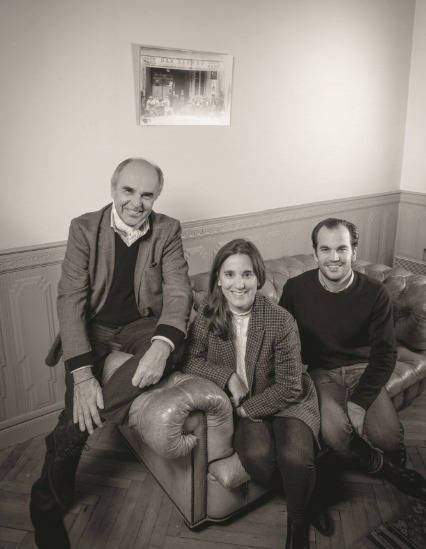 Born to a family of barrel makers and landowners of forests in the Corrèze region, Henri Peyrat (1885–1969) soon developed a great interest in wines.
He created his own company right after the First World War, developing a business in wines and spirits in the early 1920s and soon becoming a respected, well-known négociant throughout the region. His wines and spirits came from all across France, especially its southern vineyards (mainly Bordeaux) and also Algeria. From the company's cellars and offices in the heart of Cognac, Henri Peyrat carefully cultivated solid relationships with the producers and his most important suppliers in order to ensure a constant provision, in quality as well as quantity.
For thirty years, this business flourished under the management of its creator, and in 1948 Henri's son, Jean Peyrat, took the reins of what had grown to become a well-known and highly-esteemed company. Attentive to developing trends in the world at this time, he decided to orient the distribution of his Cognac to new markets that were increasingly captivated by this elegant, intense French spirit.
Jean's oldest son, Henri, joined the company in 1968 to oversee export of the Cognac to foreign markets. His brother, Philippe, joined him after gaining experience in several European countries, and today manages the company. Philippe's children, in turn, have become part of this great familial adventure: Clémence is now in charge of marketing and communications, and Édouard is responsible for commercial development in France and abroad.
Our engagements
Our values ​​- wealth and exigency
OUR EXPERIENCE
With solid experience in the past and an ambitious program for the future, Maison Peyrat is committed to ongoing development of what it knows best regarding the spirits which launched the family saga: distributing exceptional Cognacs in key markets and offering a great selection of vintage Cognacs.
Our spirit of innovation builds on the heritage of creativity, exactitude, and enterprise which has guided the company since its beginnings: we now offer a range of elegant and refined liqueurs, exceptional Rums and Whisky, all reflecting the locations which inspire them.
With the solid relationships of trust we've established with partners in numerous countries such as Finland, Sweden, Norway, Denmark, Russia and the United States, Maison Peyrat has become an ambassador of a unique traditional experience and a French art of living that continues to seduce lands far beyond its borders.
In this way Maison Peyrat continues to satisfy the uncompromising tastes of our clients.
OUR DIFFERENCE
Proud of our origins in the Corrèze region and the independence it represents, we have preserved the Peyrat name which connects us to our roots. Recognized and registered as the company's main brand, the name reflects our family's fidelity to the guidance of our founder and to maintain the authenticity of his values, the essential basics at the heart of our creative spirit.
In this way, Maison Peyrat remains firmly based in the purest Cognac tradition, offering a range comprised of the time-honored quality designations which describe the length of aging in oak casks: VS (Very Special, a minimum of 2 years), VSOP (Very Special Old Pale, a minimum of 4 years), XO (Extra Old, a minimum of 10 years) and vintage Cognacs. Our difference ? The Cognacs of Maison Peyratare blends that are aged for a longer period than required by their designation in order to produce spirits of the highest quality and exceptional intensity.
Maison Peyrat has also become an essential partner in the Cognac appellation itself, where we are able to discover—or rediscover—its iconic spirits, further gift of the generous bounty of our beautiful region.