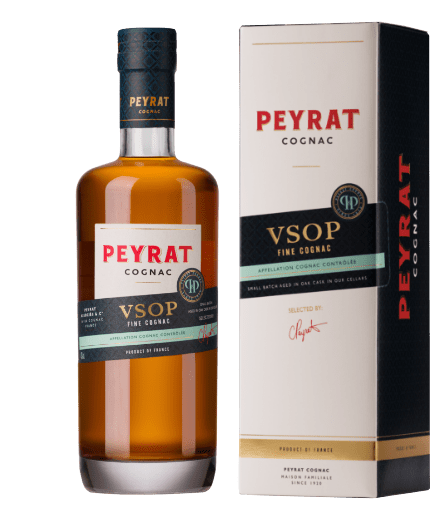 Selected by Clémence Peyrat
« Each Cognac is unique—this VSOP with its aromatic palette reflects my passion for this spirit and the desire to share it with all. »
Peyrat VSOP Cognac possesses a singular balance due to the select qualities of its blend of 5- to 6-year-old spirits, and their origins in the Cognac region's most prestigious appellations: the Fins Bois shows a decidedly fruity character, the Petite Champagne contributes a particularly complex aromatic palette, and the Grande Champagne is the epitome of harmony.
Recognized for its brilliant gold color, Peyrat VSOP Cognac shows rich, attractive tea-leaf aromas, and pleasantly surprises the palate with its round fruitiness, rich texture and well-defined power. Elegantly marrying finesse and intensity, it has an attractive length and consistently shows those qualities which make it unique: a straightforward taste, whose mature character rests on a firm, fruity structure.
Peyrat VSOP Cognac's select character is generous and rich, readily suited to every occasion: straight, in a long drink or cocktail, it's the perfect accompaniment for those special moments with family and friends.