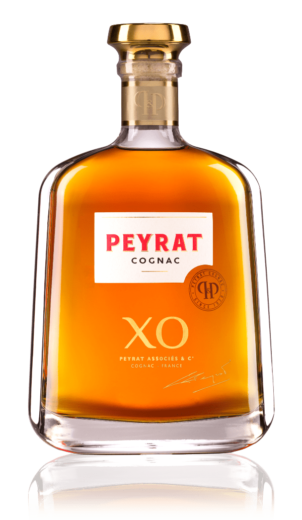 Selected by Philippe Peyrat
« This subtle, elegant Cognac is a blend of spirits over 15 years of age that I selected to create a mouth-filling softness on the palate. You have to try this ! »
The richness of the spirits that make Peyrat XO Cognac are at the heart of its harmony and complexity. All are older than 15 years of age and have their origins in exclusive parcels in each of the appellation's six regions. Together, they marry the intensity of very aged Cognacs with the liveliness of young spirits.
Enlivened by brilliant, golden-amber highlights, Peyrat XO Cognacpossesses a clean, full aromatic palette in which aromas of dried fruit and beeswax join with subtle walnut and hazelnut notes. Powerfully long, it continues to develop warm tones with variations touching on a fine butteriness, delicate roasted aromas and lightly toasted notes.
Because the appreciation of a great Cognac is fundamentally based on its appeal to the senses, we recommend tasting in a snifter or tulip-shaped glass where the hand can position itself beneath the bowl to naturally warm the spirit and bring out all its olfactive power and aromatic complexity. Connoisseurs will enjoy accompanying Peyrat XO Cognac with a good cigar for a complete sensory experience.