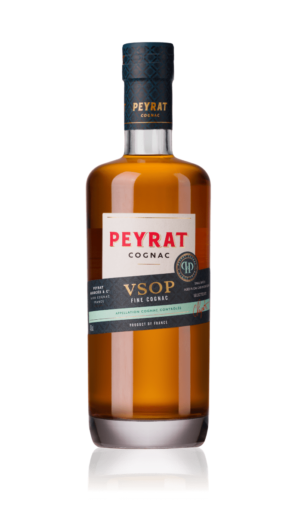 A blend of fine 5- and 6-year-old spirits produced from harvests made exclusively in organically-managed vineyards in the appellation's most prestigious areas, Peyrat VSOP Organic Cognac has all the rich, natural qualities of the land from which it comes to offer the best of its terroir.
It's remarkably balanced, displaying a fresh and fruity character showcasing flavorful complexity on the palate, with a mouth-filling concentration giving full expression to its deeply perfumed, aromatic personality. Straightforward and charming, it is backed up by an elegant intensity which reveals a supple, smooth texture and a long, rich and generous finish.
Combining expressiveness and subtlety in a well-defined and elegant structure, Peyrat VSOP Organic Cognac may be enjoyed straight, as well as in long drinks or cocktails which give expression to the infinite possibilities of its great finesse.